Hey everyone. I'm sure some of you gearheads know that for a long time Tein has had an upgrade for their suspension systems that allowed you to adjust your dampening from inside the car at speed. But we figured we'd give an in depth guide to how it works, so you can think about taking your suspension to the next level.
---

 System Layout & Operations
  EDFC or (Electronic Damping Force Controller) is a pretty basic system, which was just for adjusting your dampening manually via the controller. However, many of you may not know that in the last couple years Tein has totally redesigned the system and now offers fully active dam
pening based on speed and cornering forces. The EDFC Active Pro kit uses a G-Meter both longitudinal and lateral for accel and decal, as well as cornering. It can be adjusted on each corner individually based on the G-Load, and it also senses velocity via tapping into your speed sensor or an optional GPS unit.
---



   This allows the system to be dialed in for low and high speed cornering, as well as auto settings for Highway, City, and Twisty road driving. This set up allows for you to maximize your handling and successfully put all four down and maximize surface tension.
  While EDFC Active combines 2 modes; longitudinal G-force and speed, EDFC Active Pro can combine all 3 modes; longitudinal G-force, lateral G-force and speed.
---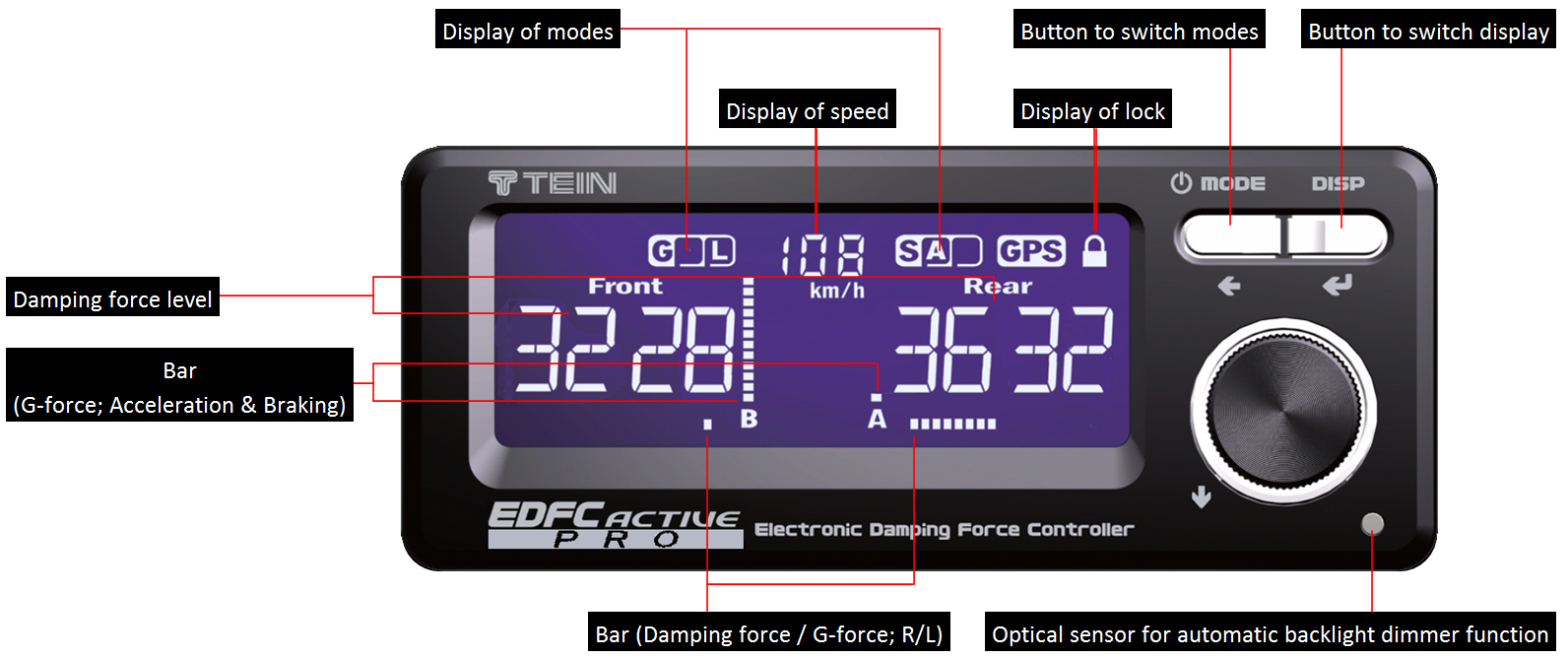 The brains of the operation.
  The kits also come with a G-sensor, a wireless transmitter and various functions are all fit into a compact controller unit, which has a wide 22x60mm display for better visibility. A wiring gutter on the back of the controller unit offers greater flexibility in positioning the controller unit and the cable.
  As The controllers connect to the cars power supply, the main controller talks to the motor driver controllers WIRELESSly; enabling you to place the motor drivers wherever they can fit for the best application.
---
  Pre-set wiring makes the kit install strait forward along with fused connections to protect your investment.
---
  The new high torque servo motors come with protective covers as well for a nice added layer of protection. These motors are what enable the process of micro adjustments with the ability of turning your 16-way adjustable dampening Coilover into an up to 64-way allowing for laser precision. Its essentially the same technology of  what most of the Supercars are using in their cars, but rather than using a special metallic fluid and energy; Tein is using small servo motors to turn the coilovers dampening valves. This kit can be added to any EDFC compatible Tein Coilover system starting at their mid-level street Flex coilover.
  The EDFC Kit can be added to any Compatible Tein Coilover which start at their Mid-Level Street Flex Coilover.
---
For pricing and applications for Tein Coilovers, click here.
For pricing and applications for Tein EDFC Kits, click here.